PRE-1: Upper Cretaceous and Paleogene at the northwestern Tethyan margin (Austria, S Germany): Boundaries, Events, Cycles and Sequences
The field trip will give an overview on the Eastern Alps and will visit some stratigraphic key sections for the Upper Cretaceous to Paleogene of the Eastern Alps, including fossil-sites of the mixed siliciclastic-carbonate Gosau-type facies, KPg boundary sections in the deep-marine realm, Paleocene-Eocene regional and global events, Cenomanian-Turonian sections with Oceanic Anoxic Event 2, and foreland transgressive-regressive cycles. Localities visited include Gams/Styria, the Gosau Valley, Gmunden (Austria) and Regensburg (Germany), including both terrestrial to shallow-water and deep-water pelagic to turbiditic sections. Biostratigraphy based on macrofossils such as ammonites and inoceramids as well as micropaleontology will be discussed, and correlations to sequence stratigraphy and cyclostratigraphy will be demonstrated.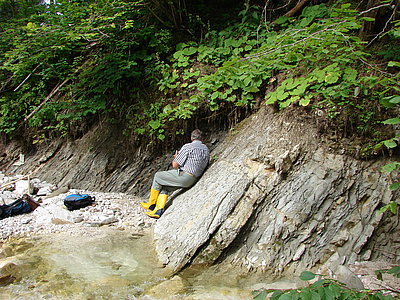 On the way the structure and paleogeography of the Eastern Alps will be explained, and some overview sites and touristic and cultural stops will be included as time allows. The field trip starts and ends in Vienna.
Physical conditions: light to medium. short walks along roads or trails, or into small and wet creeks.
Weather: maybe hot with up to 30 degrees in hilly lowlands, can be cold, windy and rainy in mountains along mountain roads; raincoat, warm pullover and good shoes required.